Interactive courses
In small groups to progress quickly
With a maximum of 5 students per session, each student has time to express themselves in order to interact with the teacher and the other students. The groups are made up according to age and level.
Age

from 8 to 16 years old

Level

All
Conversation-based method
Each one-hour session includes a lesson from the official school curriculum with exercises and the other part is reserved for conversation and exchange.
Qualified and experienced teachers
Our teaching team has specialized in learning languages online with children for years.
Free Trial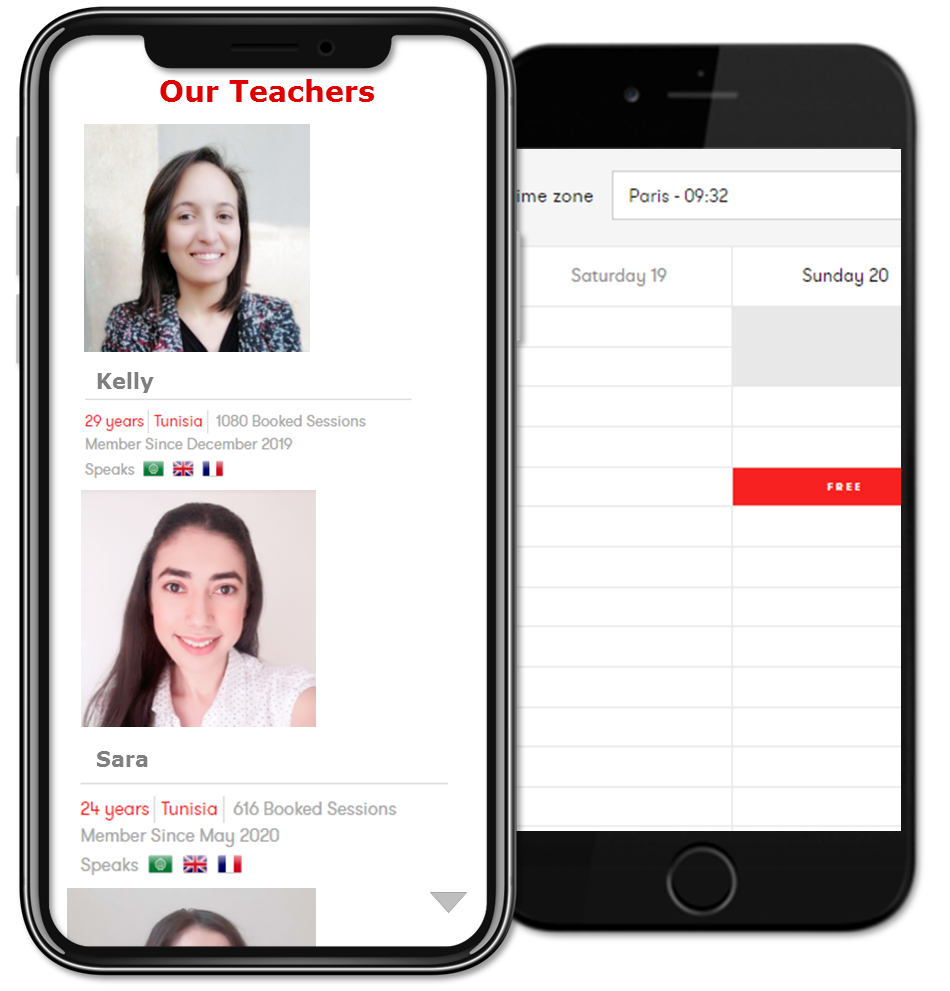 Our teaching team has specialized in learning languages online with children for years.
Free Trial
An individual coach
You do not have the time ? No problem, the coach takes care of the educational follow-up with the child and informs the parents of the progress made.
Why should your child learn with us ?
Improves your child's confidence
Feel comfortable in the oral
Individual follow-up by an educational advisor
Better school performance
Reserve your spot now
39,90€ / month
no strings attached
Available times :
Mon. Tue. Wed. Thu. 18h30/19h30
(GMT+2)
Evaluation test offered
Unlimited support & exercises
Individual coach
Subscribe
30 minute session with a mandatory online teacher to assess your child's starting level.
Free Trial
Albert Learning,
Excellent
Users thank us on
4.47 / 5 (373 Opinion)
Published On 02 October 2022
Très bonne méthode pour apprendre uke étrangère avec des profs au top neanmoins, pour ceux qui travaillent en journée il est très difficile d'avoir des cours dispo rapidement. Il faut toujours attendre minimum 48h ce qui nous limite un peu dans notre apprentissage.

Sofiane
Published On 30 September 2022
Très bon prof et le prix des cours est imbattable, avec des cours en illimité c'est le rêve pour moi qui souhaite progresser rapidement

Meriem
Published On 29 September 2022
J'ai récemment pris une leçon de spoken challenge, et j'ai adoré. On progresse à chaque niveau. Je le recommande vivement si vous voulez parler couramment l'anglais.

Jenny
Published On 29 September 2022
Albert learning propose des leçons d'anglais très intéressantes que vous pouvez apprendre avec des professeurs. Essayez-les.

Alice
Published On 18 September 2022
Bons professeurs et super plateforme mais nous ne pouvons booker qu'une leçon à la fois ce qui fait que nous ne pouvons pas avoir de leçons tous les jours

Shayneze
Published On 15 September 2022
Lo mejor, charlas interesantes en pequeños grupos. Lo peor, el material para las lecciones individuales no es muy bueno

Pedro
Published On 09 September 2022
Très bon contact avec la professeure Imene. Paraît très pédagogue et de surplus parle bien le français. Je pense continuer les cours avec cette personne.

Alain
Published On 08 September 2022
good

Ilyas
Published On 04 September 2022
For the moment (I only took 1 lesson), AL seems to fit my needs which is to perform my Spanish. Only request / issue I see : it's too bad we can only book 1 lesson at a time. For me it looks like you want to restrict the numbers of lessons per month. I am a mom and need to schedule my week in advance, and be able to book at least 2 lessons in advance would be fair.

Linda
Published On 03 September 2022
Bonjour. Expérience mitigée lors du 1er Cours. Débit internet pas toujours très fluide. Difficulté pour entendre le professeur clairement. Les professeurs sont en nombre limité lorsqu'on réserve les cours. Le choix des créneaux également lorsqu'on souhaite réserver du jour au lendemain (ce qui est mon cas car je ne souhaite pas doubler le prix de mon forfait en optant pour l option de reservation de 10 reservations par avance, je trouve le prix de l'option exagéré). Le prof était sympa+pro.

christelle