Interactive courses
In small groups to progress quickly
With a maximum of 5 students per session, each student has time to express themselves in order to interact with the teacher and the other students. The groups are made up according to age and level.
Age

from 8 to 16 years old

Level

All
Conversation-based method
Each one-hour session includes a lesson from the official school curriculum with exercises and the other part is reserved for conversation and exchange.
Qualified and experienced teachers
Our teaching team has specialized in learning languages online with children for years.
Free Trial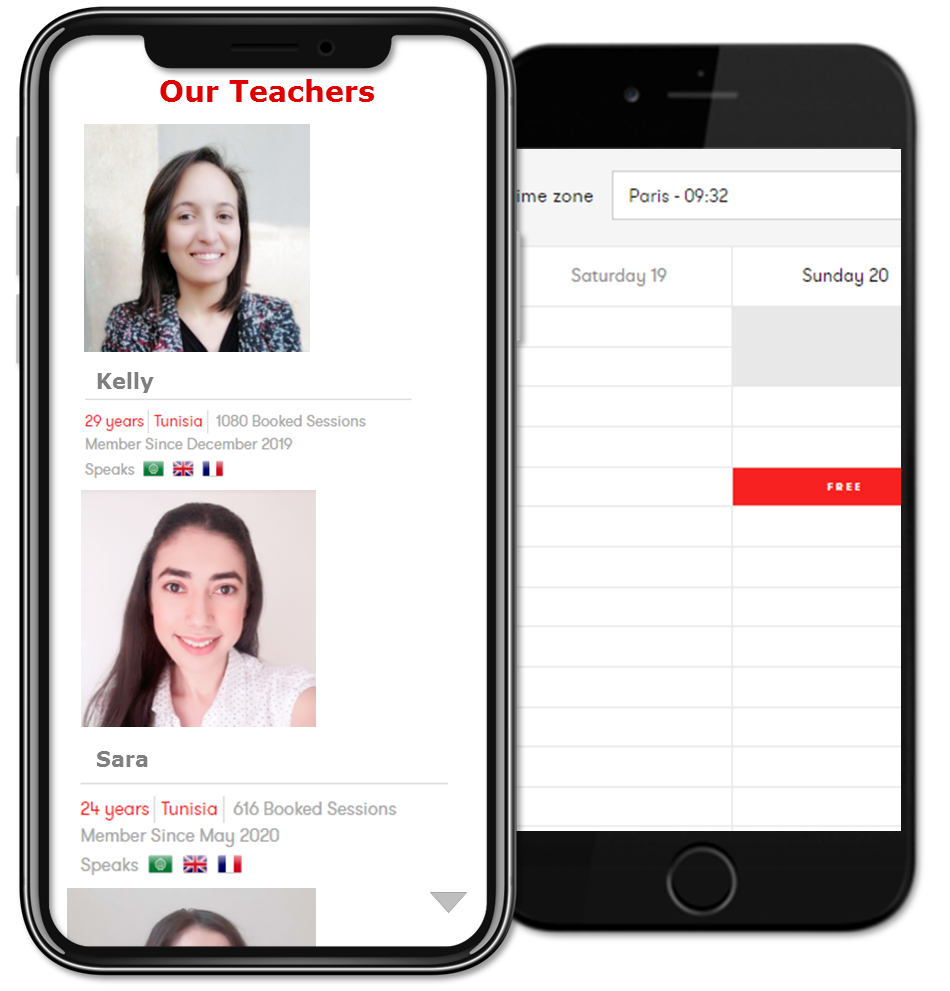 Our teaching team has specialized in learning languages online with children for years.
Free Trial
An individual coach
You do not have the time ? No problem, the coach takes care of the educational follow-up with the child and informs the parents of the progress made.
Why should your child learn with us ?
Improves your child's confidence
Feel comfortable in the oral
Individual follow-up by an educational advisor
Better school performance
Reserve your spot now
39,90€ / month
no strings attached
Available times :
Mon. Tue. Wed. Thu. 18h30/19h30
(GMT+2)
Evaluation test offered
Unlimited support & exercises
Individual coach
Subscribe
30 minute session with a mandatory online teacher to assess your child's starting level.
Free Trial
Albert Learning,
Excellent





Users thank us on





Published On 25 July 2021
Interlocutrice très gentille, à l'écoute. Je sais que je vais faire d'énorme progrès grâce à vous Merci pour ces cours et ces personnes si intentionnées
Nicolas





Published On 25 July 2021
Professional teacher and courses regarding the need of student

Moise





Published On 21 July 2021
Cette plateforme pour apprendre les langues est excellente ! J'y suis depuis plusieurs années et c'est toujours un plaisir d'apprendre , les professeurs sont très cool et compétents !

Anna





Published On 17 July 2021
Les professeurs que j' ai eu sont très très bien et de bons conseils

Sophie





Published On 12 July 2021
Intervenants agréables et pédagogues C'est pour l'instant une bonne expérience.

jacky





Published On 08 July 2021
Cours qui correspondent à mes attentes, à savoir échanger en Anglais. Le résumé des cours envoyé à la suite est un bon support. Le choix des créneaux horaires et des sujets de discussion sont très larges.

Emmanuelle





Published On 04 July 2021
Good service

Noureddine





Published On 01 July 2021
Excellente qualité du cours avec Mario. Une suggestion : pouvoir disposer de supports écrits, afin de structurer le cours davantage - même s'il s'agit d'une discussion libre. Merci !

Grauls





Published On 29 June 2021
I find albert learning very useful

Ismaila





Published On 26 June 2021
deux premières expériences intéressantes. très bon accueil. grande diversité des cours. trop tôt pour un avis complet

alain